1904 Larson Mandolin.
This fine old mandolin was literally in pieces when I purchased it. The peg head was broken in pieces, the tuning pegs were bent and broken, the bridge was broken, the saddle was broken, the decorative trim was broken off, the strings were missing and the anchor pins were missing. It took a lot of painstaking work, but it  is back in playing condition and sounding fantastic.
After doing some research, I found out that the Larson Brothers had a factory in Chicago at that time, and hand built fine mandolins. I am now very happy to use this mandolin on some of my recording
1968 Japanese copy of Gibson B25
 When I purchases this guitar it was in pieces. It needed a new saddle, rebuild the peg head, tuners were bent and tuning heads were missing, braces inside of it were loose the bridge had to be re-set and the bridge pins were missing. After some painstaking work, the guitar came out quite well, and was used for the fingerpicking on my recording of "Going To Chicago".
The fiberboard case was also a mismatch and needed some customizing so the the guitar would fit snugly in it. After playing it in the recording, I'm very happy to say I donated it to the Chicago Public School system and it is now enjoying a second life in a band program.
Gibson Les Paul Jr.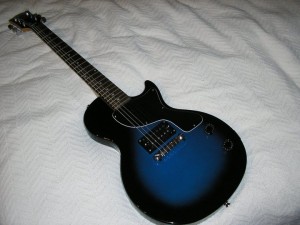 I purchased this guitar at a garage sale. It needed the tuning pegs re-worked, and a neck re-set. Plus I needed to clean up the electronics, re-file the saddle slots to factory specs, re-set the bridge to factory specs and raise the pickup to meet factory specs.
This guitar was used on my recording of "Sun and Plow" and "Tic Toc The Clock". It has a unique voice that sounds tougher than a regular Les Paul and I still use it in recordings.
1973 Kay Mandolin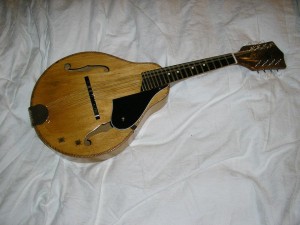 This mandolin was pretty beat up and ugly when I purchased it. The mandolin was painted in an awful imitation maple, the pick guard was broken in half, there was at one time electronics installed because it had holes where the volume knob would be and the plug would be, the bridge was missing the saddle was broken and the tuning pegs were missing.
I sanded all the paint off and found beautiful wood underneath. I filled in the holes and replaced all the broken and missing pieces. After staining and varnishing the mandolin turned out quite beautiful. This mandolin is currently in my New York studio and being use in recordings.